Pylons works with all versions of Python since 2.3, but it is recommended that you use Python 2.4 or newer because some of the third-party packages you are likely to use when developing a Pylons application are less likely to support the older versions. Python 2.5 or 2.6 are ideal.
The following sections describe how to install Python on Linux/BSD, Windows, and Mac OS X platforms. They also go into some detail about other tools and software you are likely to need on your platform as well as any extra steps you need to take or platform-specific issues you need to know.
Note
Python supports the use of C or C++ extensions to facilitate integration with other libraries or to speed up certain sections of code. Although you are unlikely to ever need to write your own extensions when developing a Pylons application, you may find some third-party packages, particularly database drivers, do contain extensions.
Unlike pure Python packages, packages containing extensions need to be compiled for each platform on which they are run. Most of the time a binary version of a particular package will already exist for your platform (particularly if you run Windows), but if not, the extension may need to be compiled. The compilation step will happen automatically, but in order for it to work, you will need to set up a suitable development environment. The installation sections for Linux/BSD and Mac OS X platforms will describe how to do this.
Linux and BSD
Most modern Linux and BSD platforms include Python as part of their standard installation. You can find out which version of Python you have on your platform by typing python at a prompt and reading the information that is displayed. If the python command loads an old version of Python, you might find that the command python2.5 or python2.4 loads more recent versions.
If your platform doesn't have a recent version of Python, you will need to install a binary version in whichever way is appropriate for your platform. For example, on Debian you would use the apt-get command, on Fedora or Red Hat you would use RPM, and on FreeBSD you would use the packages system.
Compiling Python directly from source is also straightforward, and you're free to do so if you prefer. First download the source distribution from http://www.python.org/download/source/, and then extract all the files. One of the extracted files is a README file, which includes build instructions for various platforms. You should follow the instructions for your particular platform.
If you want to be able to compile Python packages with C or C++ extensions, you will also need to install a build environment that includes the same version of the GNU Compiler Collection (GCC) as Python and its dependencies were compiled with. Some platforms also require you to install a python-dev package as well.
For example, to set up Debian 4.0 to be able to compile Python extensions, you would need to install these development packages:
$ sudo apt-get install python-dev libc6-dev
Sometimes particular packages need to be compiled with a version of GCC older than the default on the platform. On Debian you can install GCC 2.95 with this command:
$ sudo apt-get install gcc-2.95
To use this older version, you would set the CC environment variable before trying to build a package. The way you do this depends on your shell, but for Bash, you would run this command:
$ export CC=/usr/bin/gcc-2.95
Once the required version of GCC has been set up, Easy Install should be able to automatically compile any dependencies from the same shell. If you need to open another shell, you will need to check the CC variable is still set and set it again if necessary:
$ echo $CC
/usr/bin/gcc-2.95
Mac OS X
Python 2.5 comes preinstalled on Mac OS X Leopard complete with Easy Install, so Leopard users can get started creating a virtual Python environment and installing Pylons straightaway.
Older versions of Mac OS X also include Python, but the version included is sometimes either one or two years old because of Apple's release cycle. The overwhelming recommendation of the "MacPython" community is for users of old versions of Mac OS X to upgrade Python by downloading and installing a newer version. Visit http://www.python.org/download/mac/ for more details.
Caution
It is worth being aware that if you install packages to /Library/Python/2.5/site-packages and then use virtualenv to install Pylons to a local directory, any applications you run from the local directory won't be able to find those in the /Library/... path, so it is always best to install everything locally.
If you encounter this problem, you can fix it by running Easy Install from your virtual Python environment for each of the packages that appear to be missing. Easy Install will then find them and add them to the virtual Python environment's easy-install.pth file.
Windows
If you are using Windows 95, 98, NT, 2000, ME, XP, 2003 Server, or Vista, you can download the Python installer from http://python.org/download/. Once you have downloaded the correct version for your platform (which will usually be the x86 version), you simply double-click the installer file and follow the installation instructions (see Figure 2-1).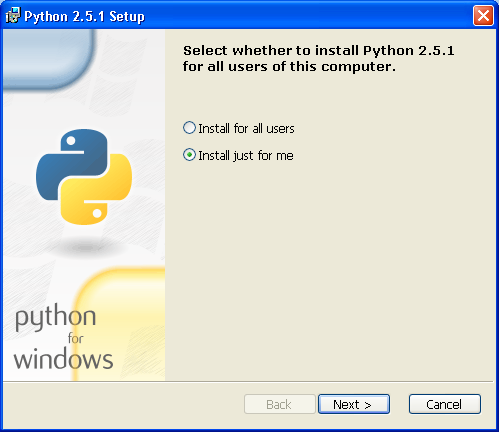 On Windows, any scripts that are installed by Easy Install will be put in the Scripts directory of your Python installation. By default neither this directory nor your main Python executable are on your PATH, so you will not be able to run Python itself or any Python scripts from a command prompt unless you first navigate to the correct directory or specify the full path each time.
To fix this and save yourself a lot of typing in the future, you should add some directories to your PATH environment variable. Luckily, this is straightforward to do, so the examples in this book will assume you have set up your path correctly.
Of course, if you are using a virtual Python environment, you should specify the Scripts directory within the virtual Python environment rather than the system Python, or you could activate your virtual Python environment instead as described earlier in the chapter.
If you are using Windows 2000 or Windows XP, you can do the following:
From the desktop or Start menu, right-click My Computer, and click Properties.
In the System Properties window, click the Advanced tab.
In the Advanced section, click the Environment Variables button.

Finally, in the Environment Variables window, highlight the path variable in the Systems Variable section, and click Edit (see Figure 2-2). Add the text C:\Python25\;C:\Python25\Scripts to the end of the path. Each different directory should be separated by a semicolon, so the end of your path might look something like this:

C:\Program Files;C:\WINDOWS;C:\WINDOWS\System32;C:\Python25\;C:\Python25\Scripts

You might need to restart your computer for the change to take effect.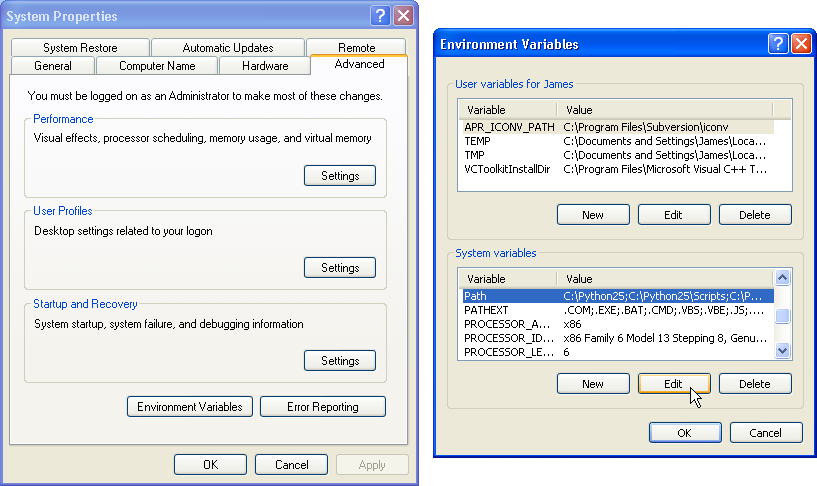 To test your installation has worked and your path is configured correctly, you should select Start -> Run and enter the text cmd in the input field. When you click OK, a Windows command prompt will load. You can then run Python by typing python at the prompt. You should see something similar to what is shown in Figure 2-3.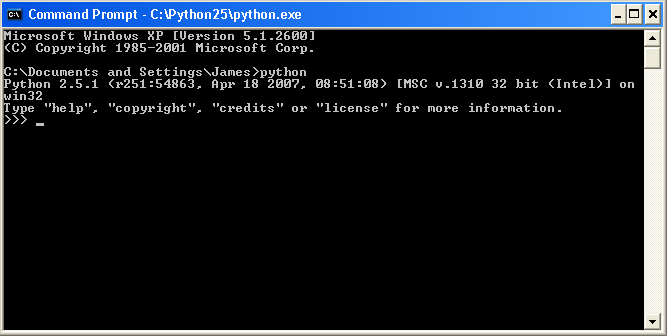 If so, the installation has worked. To exit the Python interactive interpreter, you can press Ctrl+Z followed immediately by pressing the Enter key.
Tip
When you develop Pylons applications, you will find you frequently need access to a Windows command prompt. It can quickly become quite tedious to load a command prompt from the Run option on the Start menu and then manually navigate to the directory containing your Pylons application. To make life easier, Microsoft has released an extension called the Open Command Window Here PowerToy, which allows you to right-click a directory and load a command prompt at that location by choosing Open Command Window Here from the menu. You can download the extension from http://www.microsoft.com/windowsxp/downloads/powertoys/xppowertoys.mspx.
There are two slight complications to be aware of when developing Python applications on Windows. The first is that paths on Windows use the \ character as a path separator rather than the / character used on the Linux and Mac OS X platforms. The \ character is treated as an escape character in strings within Python source code, so you cannot use Windows paths in source code strings without first escaping the \ characters. You can do this by adding an extra \ character before each \ in the string. For example, a Windows path might be written like this:
my_path = "C:\\Documents and Settings\\James\\Desktop\\Pylons"

Luckily, Python also treats / characters in paths on the Windows platform as path separators, so you can also write the same path like this:
my_path = "C:/Documents and Settings/James/Desktop/Pylons"

Note
Rather than writing different versions of commands for Windows, Linux, and Mac OS X platforms throughout this book, I will instead assume you have set up the C:\Python25\Scripts directory to be on your PATH. Also, I will write any paths using / characters rather than \ characters, so please be aware that you may have to interpret these slightly differently on Windows.
The second slight complication is the way Windows treats line-end characters. On Unix-like platforms, the newline character \n is treated as the line end, whereas on Windows the characters \r\n are used. If you have ever loaded a file in Notepad and wondered why it shows an entire paragraph as one long line, it is likely that the file was written on a Unix-like platform and Notepad simply didn't understand the line-end characters.
Luckily, Python understands line-end issues and will work equally well regardless of the line-end characters used, but not all software does. It is generally easiest to stick to one type of line-end character. If you are going to deploy your software on a Unix-like platform, you should strongly consider writing all your Python source files with Unix-style line ends even if you are using Windows. Although FTP software frequently tries to translate Windows line ends to Unix-style line ends, you can save yourself the complication by simply using Unix line ends to start with.
Tip
Python comes with a built-in editor called IDLE for editing Python source files that you can read about at http://www.python.org/idle/doc/idle2.html. IDLE is a very powerful IDE, but unfortunately it doesn't have an option for choosing which line-end characters to use.
One free editor that does allow you to choose which line ends to use is called SciTE and can be downloaded from http://scintilla.sourceforge.net/SciTEDownload.html. You can choose your line-end characters from the menu by selecting Options -> Line End Characters. The options are CR+LF, CR, and LF (see Figure 2-4). LF stands for Line Feed and is the Unix line-end character written \n in Python strings, and CR stands for carriage return. Windows uses carriage returns and line feeds represented as \r\n in Python strings. If you want to convert from one type of line end to another, you can use the Convert Line End Characters option in the Options menu.